Thompson's renowned Inferno Fire Rated Roller Shutter is made from the highest quality steel to ensure that the shutter doesn't lose structure or deflect when under extreme heat.
The fire shutter has been developed to solve a number of fire engineering problems designed to be used in high profile, high quality and technically demanding situations up to where applications of both a roller shutter and a fire protection system for the building is needed. There are two main products in the Thompson's Inferno Fire Rated range that are suitable for a variety of different applications.
These shutters are: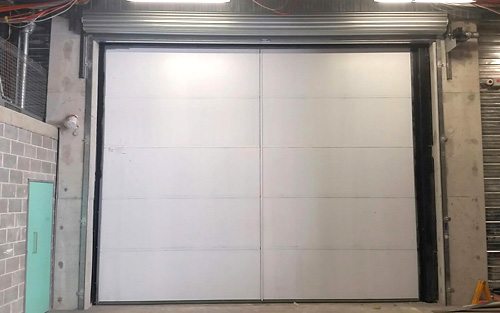 Maintain the functionality of a roller shutter whilst having fire protection ratings up to 4 hours FR (-/240/-).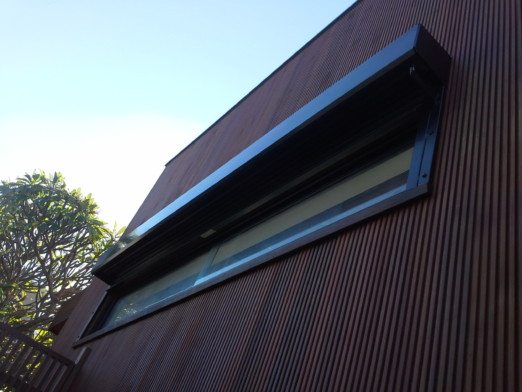 A window fire shutter designed to stay open and only close in the event of a fire with protection ratings of up to 4 Hours FR (-/240/-).
Powdercoated and polyurethane finish
Head panels
Special cut out splayed bottom rail, rail to shape the door over gutters at the side of driveway
Motorised Options only:
Automatic operation through logic control box
Touch sensitive auto reversing bottom rail
Photo electric safety beams
Siren and flashing strobe lights
Proximity key readers
Smoke detectors with activation switch
Individually coded remote hand transmitters for easy addition and deletion of separate units
Key operated isolating switch to enhance security
Outside key switch for external operation of door
Auto close
Installed as fully operational standard roller shutter or 'hold open' fire shutter (descending in event of fire)
Option to install as smoke barrier with addition of smoke detector (descending in event of smoke)
Up to 5000mm x 8000mm wide and up to 4 hours fire rated -/240/-FRL
Domestic, commercial or industrial installation
CSIRO tested to AS1530.4-1990; AS1905-2 compliant
Conforms to Building Code of Australia
Can be used in conjunction with high speed doors
Rollup capability frees up valuable side room; eliminates need for cavity wall space.
INFERNO can be installed and used in day to day operations to secure any opening whilst still retaining the fire rating of the building.
Automatic Descent Mechanism – Thompson's fire rated shutters are fitted with an auto descent mechanism which will close the shutter in the event of fire
By Motor – Fire rated auto descent motor units fitted with an emergency manual pull chain
By Chain – Fire rated manual pull chain box with auto descent
Hold open only  – with descent only in event of fire (Window Only)
Door Type: Thompson's Inferno chain operated and motorised fire rated shutter by Thompson's Roller Shutters Pty Ltd
Roller: 100mm – 219mm Dia at 3.5mm to 6.4mm Seamless Drawn steel tube housing counterbalanced springs
Roller Axle: 39mm dia solid mild steel
Slat:
50mm x 0.8mm or 1mm profile with metal end clips
75mm x 0.8mm or 1mm profile with metal end clips
Guide:
64mm or 75mm x 23mm galvanised
64mm or 75mm x 30mm galvanised
Bottom Rail: 50mm x 50mm x 6mm galvanised angle
Brackets: 8mm mild steel plate
Fusible Link: 67 degrees auto release type
Operation: Manual Chain Op, or Motorised
Finish:
Galvanised
Powder coated (pre-coated)
Polyurethane (painted on site)
Call 02 9567 0488 and talk to our experts to find the right solution for your requirements.