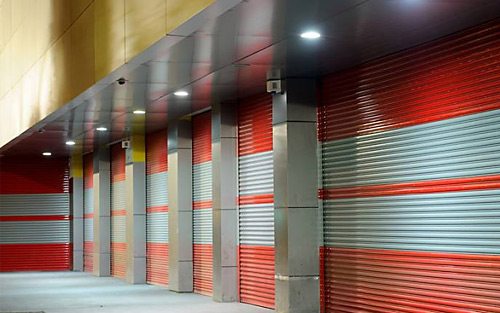 Not all roller shutters are created equal, and different types of roller shutter will be more or less useful depending on their specific purpose. When deciding to buy a roller shutter, it is important that you clarify your operational needs. Different businesses will make decisions in regard to the level of security, ease of use and efficiency, the aesthetics of the shutters, and the necessity to guard against extreme weather events such as storms and fires.
It is important to think about who will be using your shutters and how often, as this may dictate whether you need manual or automated shutters, and dictate the most appropriate kind of operating system for your business needs.
 Factories and Warehouses
When choosing the best roller shutter for your factory or warehouse, there are a number of things to keep in mind.
Warehouses and factories often have a large amount of foot traffic, as well as workers operating forklifts or other such devices. It is important to select a door that allows for safe access and plenty of room for movement. Consider the height required for door frames through which vehicles will pass, and the ability for workers on foot to enter and exit with maximum visibility to prevent accidents.
Warehouses and factories often have strict parameters regarding safety, visibility and ventilation. Consider how the doors will affect the climate of the factory or warehouse. It may be necessary to have more than one roller shutter separating the interior of the space from the outside, opening at separate times and from a safe distance to maintain the climate within.
Warehouses and factories have unique risks attending their operation, and the roller shutter will need to meet compliance standards that safeguard against such risks. Fires are generally a greater risk in factories and warehouses (particularly those dealing with combustible materials) than commercial shop settings, and so, they often require specially equipped fire grade roller shutters.
It is also important to note that factories and warehouses will usually require heavy-duty steel roller shutters, as opposed to aluminium ones, to provide maximum security against potential break-ins. These are extremely heavy and not necessarily as 'user friendly' as lighter aluminium alternatives; however, the added security is worth this downside.
 Commercial Premises
Commercial premises generally don't carry as many high-value goods as industrial premises, and are located in more central areas that are less liable to break-ins. For this reason, aluminium roller shutters are often preferable, because they are lighter and can allow for greater visibility.
However, regard must still be given to the functionality of the roller shutters for the workers who will be using them. Smaller shutters may only require manual operation because they may only be rolled up and down at the beginning and end of each day.
That said, commercial premises may also have a small warehouse attached, perhaps involving one or two forklifts, in which case an automated roller shutter may be more appropriate.
Discuss Your Needs with the Experts
There are no 'one-size-fits-all' roller shutters. Contact the friendly and expert team at Thompson's Roller Shutters to discuss what roller shutter is best suited to your unique business!