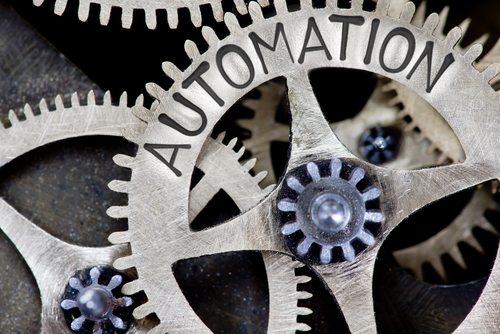 Protecting your goods from burglary or extreme weather is essential for most businesses, and installing roller shutters is an important step in securing that end. The efficiency, ease and security of your business can be greatly improved through the use of automated roller shutters.
Why should you install automated roller shutters? What features can be used to optimise your business potential? The team at Thompson's Roller Shutters has the info.
Why Automate Your Roller Shutters?
There are a number of advantages to automating your roller shutters rather than sticking with manually operated shutters. For those in industrial environments, heavy-duty steel shutters are necessary for security purposes, but they also need to be frequently opened and closed throughout the day, as orders come and go. It is impractical, time-consuming and potentially hazardous for employees to be constantly operating a shutter manually. Having an automated shutter provides more efficiency as a worker can wind up or wind down the shutter with the touch of a button.
Having an automated shutter also limits the risk of human error. Automation will close the shutter properly, preventing the possibility that the entrance might be left slightly open, and be susceptible to break-ins. Furthermore, heavy industries often have to deal with the entry of trucks and vehicles of different sizes, and a manually operated shutter may result in the shutter not being rolled up high enough – potentially causing collisions with vehicles – resulting in injury to workers and damage to goods.
Thompson's Automated Roller Shutters
Thompson's Roller Shutters features motors from Grifco and GFA for all of our roller shutter applications. Automated shutters can be applied to everything from roller shutters to sectional doors, providing a complete range of the most durable and cost-effective operating solutions to suit the potential applications that a business may have.
The motors we use cover a range of applications, including:
single phase
3 phase
low cycle and high cycle motors
adjustable speed
direct drive
weather resistant
fire rated (for fire shutters only)
integration of electronic accessories
integration of remotes and access control
sectional doors
Having remote-controlled shutter doors can increase efficiency on large workplace floors where employees are typically busy and have to do a lot of back and forth walking.
In smaller scale businesses, where workers might otherwise have to frequently open and shut roller doors themselves, automation can drastically reduce the risk of injury arising from repetitive stress – a plus for both your worker, and for the smooth operation of your business.
Especially for industries located in areas susceptible to extreme weather events (bushfires or storms, for instance) automated shutters can allow roller doors to be shut quickly, and from a safe distance, if a threat arises – keeping your goods and your workers safe.
Get In Touch for More Information!
The team at Thompson's Roller Shutters are the experts in automated roller shutters. For personalised solutions for your business needs, contact our Sydney team today!